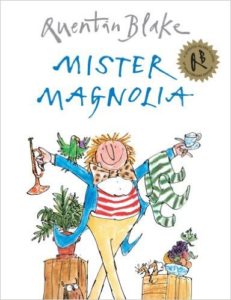 What book merits my very first recommendation from Bubble Publishing? A tough decision! But Mister Magnolia, by Quentin Blake, the award-winning illustrator, gets my vote.
Like all the best children's books, Mister Magnolia can be enjoyed by both adults and children alike.
This delightful, nonsensical rhyming picture book is a joy to read aloud with the littlest of children. I remember having great fun reading it with Emma when she was a tiny tot.
Mister Magnolia has a full and happy life except for one serious omission — a boot. But one day, he receives a mysterious parcel, and at last his life is complete (even if with mismatching footwear)!
"Brilliant. Just brilliant. Who would not want to read this book over and over again? It's so ridiculous. Such a silly, wonderful little book. Brilliant text. Brilliant illustrations." Amazon purchaser
"The book just sings with joy and energy and causing endless giggles." Amazon purchaser
Mister Magnolia is available in all good book stores, and can also be purchased on Amazon via this link.