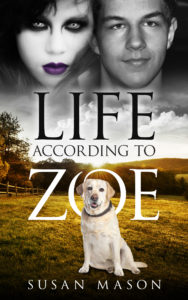 This is my first short novel, which was inspired by the antics of our family pet – a yellow Labrador called Zoe. I wanted to share her endearing antics with children and other dog lovers. She is also central to the growing friendship between fifteen year-olds Ben and Jade.
The story begins with studious computer geek Ben and his family moving to a new town where he struggles to fit in. His faithful, fun-loving Labrador puppy, Zoe is helping him to overcome his homesickness. Through unusual circumstances, Ben and Zoe meet and befriend Jade, an enigmatic Goth girl.
Will Zoe's charming, but wayward behaviour prove too much for Ben to handle? Will he find out more about the inscrutable Jade? Together, the three of them embark on a venture that changes them all. Find out what happens to the unlikely trio in this heart-warming dog story.
"What else besides an unruly puppy could bridge the gap between Goth Girl and Geek Guy? Maybe a lost cell phone? … This touching story is short enough for an evening read and will leave you waiting for what I hope will be the next installment." Amazon purchaser
"Absolutely great! I enjoyed every page. It gets one thinking about relationships, friendships, prejudices, courage, assertiveness etc." Amazon purchaser
Available on Amazon via this link.
Enjoy!